Mysticism Rumi & Shams Rare Illuminated Persian Poetry Manuscript Leaf lot (3)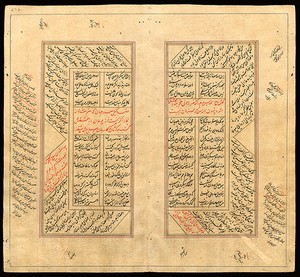 ---
Click on the imagefor a detailed view.

A splendid leaf from a 17th Century Persian poetry manuscript. in two columns, with further text written diagonally, with gold and red rules and further margianl notes in black and red. illuminated headings and the beginning of each poem, later double-page illustrations in gouache heightened with gold painted in the Safavid style with illuminated borders. The preface states that the book was put together after having consulted over 80 other manuscripts. The work was originally started in Afghanistan and was most finished likely Peshawar, The leaf measures 10.25" x 5.50" and was created on fine, laid paper. We acquired the remains of this book as a fragment The verso Jalal ad-Din Muhammad Rumi, also known as Jalal ad-Din Muhammad Balkhi, Mevlânâ/Mawlana, Mevlevî/Mawlawi, and more popularly simply as Rumi, was a 13th-century Persian Sunni Muslim poet, jurist, Islamic scholar, theologian, and Sufi mystic originally from Greater Khorasan. Rumi's influence transcends national borders and ethnic divisions: Rumi's works are written mostly in Persian, but occasionally he also used Turkish, Arabic and Greek. A deep grasp of his original poetry requires excellent command of modern Persian, and an equally good command of Islamic prophetic traditions, and the Qur'an. With such command, one may succeed in peeling back the multitude layers of meaning. The two (2) additional leaves in this lot are text only and contain no decorations or embellishments.

A Great Gift For Any Manuscript Collector

We Now Accept PayPal!

We Ship Worldwide. Please Contact Us For a Free Shipping Quote!